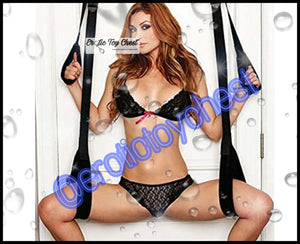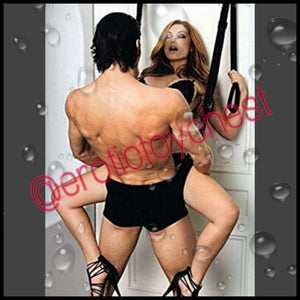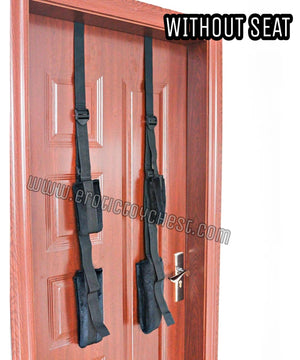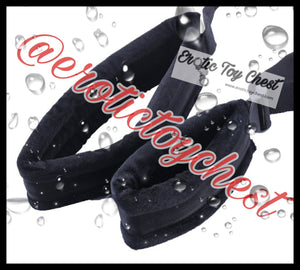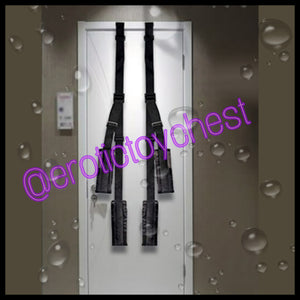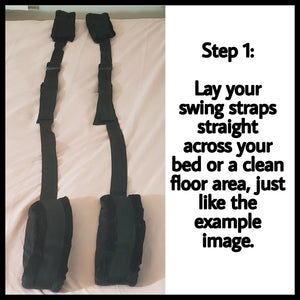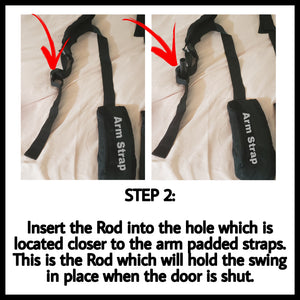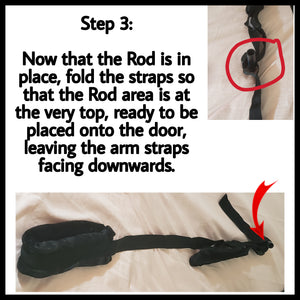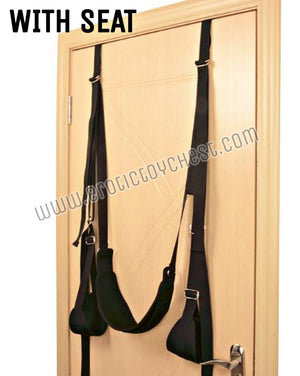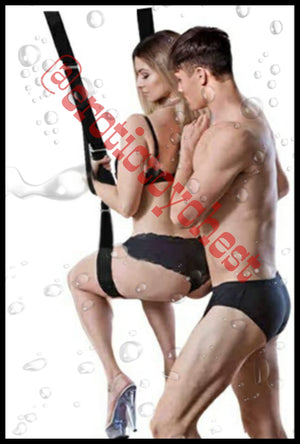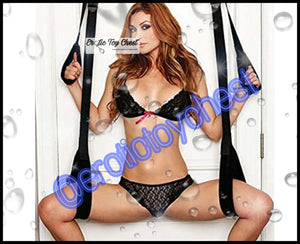 Fantasy Slam (Door Sex Swing)
The Fantasy Slam is an adult door swing which is made of sturdy canvas straps. The retaining bars , also called rods, (that hold the straps into the door frame) are a strong polymer, the buckles for adjusting sizes are metal, and the leg and arm loops are a comfortable velvet.

Sex swings combine two of the most fun things on earth (you guessed it, sex and swings). But aside from sex swings being a really fun, seemingly genius invention, why else should you and your partner try one out? Generally speaking, sex swings offer endless possibilities for positions, you just need to be creative and ready to have fun.
Once you gain more experience and understand how to use the swing, it can offer a vast variety of different positions that you and your partner can engage in – without too much effort. Shut the door and don't let anyone disturb you, or better yet, make that door a love swing. Discover the hidden uses of doors that can be converted to a love swing using this adult wings. Versatile, naughty and perfect for different types of fetish play that both of you will love.
Allow your partner to penetrate you with ease, let them taste you and just let them do everything that you want them to do to you. This adult swing allows you to lift the weight off and at the same time adjust the weight you want so penetration can feel different every time. In minutes, your door can be a love swing that will bring your sex acts to new heights. It's fully adjustable and can easily be set up within minutes. This is perfect for couples who love kinky erotic play. 
How to use:  
1. Lay both swing straps across your bed or a clean floor area so that the arm straps are at the top and the leg straps are at the bottom.
2. Insert the Rod into the hole of the straps which is located closer to the arm straps. This is the Rod which will hold the swing in place when the door is shut.
3. Now that the Rod is in place, bring the arm straps downwards, facing the leg straps. The Rod area should now be located at the very top. 
4. After prepping both the left and right swing straps, secure the straps and retaining bars (Rods) over any solid core door. Just slip the retaining bars over the top of the door and then close. Make sure the door is locked once the swing is in place. Comfortable straps!!
Cleaning:  Wipe down your bondage set by hand, using a damp washcloth with a toy cleanser solution. Never let the bondage set sit in water or place under a water faucet or hose. Clean your set after each use and again before touching another person's genitals. Allow it to air dry, and then immediately store in a safe and dry area, away from extreme heat or cold, and away from water.
Color:  Black
Material:  Satin padded arm & leg straps, nylon swing straps, strong polymer rods and plastic buckles. 
Size:  Adjust straps to fit all sizes. Swing supports up to 300 lbs.  
Package Includes: Two swing straps (Left & Right), and two Rods AKA Retaining Bars.