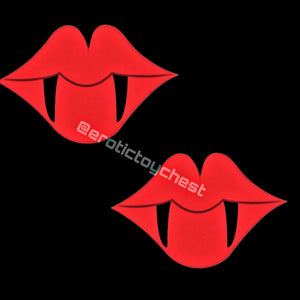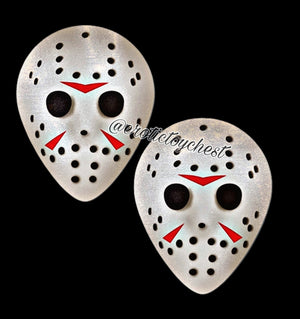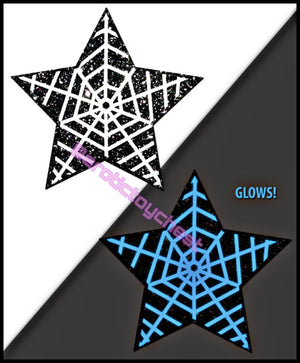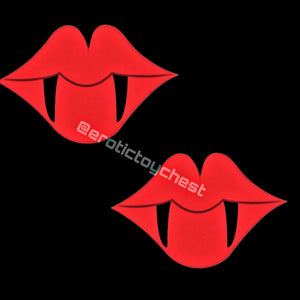 COSPLAY Nipple Pasties
Conceal or reveal your nipples with these pasties by wearing them with a sexy outfit, daring bikini, sheer top, revealing dress, crazy costume, party theme or nothing at all! Have fun with what you wear no matter where you wear it!
Hand made in the USA of soft, firm, and fitting material that forms seamlessly to curves, and resists wrinkling over hardening nipples. They contain a waterproof adhesive that stay securely in place for as long as you like and until they are gently removed.
Simply remove oils and lotions from skin, peel off backing, and stick on dry nipples. To reuse later, place them on a clean mirror or window and re-apply them using the same technique as before.
We have three kinds of pasties in stock. Choose the scariest, but sexiest one for your nipples!!
Jason/Hockey Mask Pasties
Scary Jason Hockey Mask Nipple Pasties. Be afraid! Be very afraid.
Dimensions:  2.4 Inches x 3.1 Inches
Coverage Diameter:  2.4 Inches
Glow In The Dark Spider Web Pasties
These Glow In The Dark Spider Web Nipple Pasties. Turn off the lights!
Dimensions: 3 Inches x 3 Inches
Coverage Diameter:  1.55 Inches
Vampire Fangs Pasties
These Vampire Fang Nipple Pasties. Kisses with Fangs.
Dimensions:  3.3 Inches x 2.1 Inches
Coverage Diameter:  1.7 Inches
All items are waterproof and latex free.