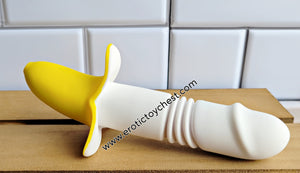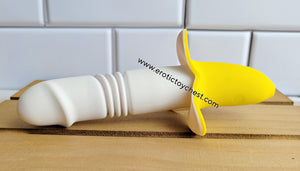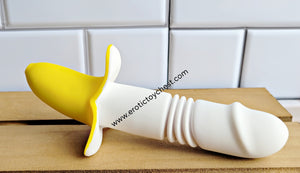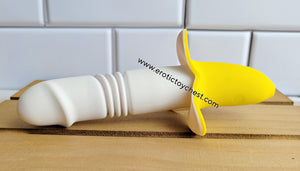 The Banana Beater
With a unique cute banana shape and compact telescopic design, the high quality vibrating motor provides a powerful telescopic force to constantly stimulate the vaginal g-spot. There are 12 different retractable modes, and you can choose different modes according to your preference.

The Banana Beater vibrator as a whole is made of silicone material, which is low allergenic, delicate and pleasant to touch, very safe to use, and has good water resistance.
With the control of buttons, this Banana Beater dildo thrusts, jumps, and rotates at multiple speeds. Bring this thrusting, jumping, and rotating dildo to your bedroom for an amazing array of pillow-biting, toe-curling sensations & unsurpassed stimulation! 
Instructions:  Charge the toy, using the USB Charge Cord provided, for a minimum of 2 hours prior to using the toy. Power the vibrator on/off by holding down the power button on the toy. You will start to feel its vibrations once it is turned on. Use the toy on any private area of the body that you choose to get you or your partner off, such as the nipples or clitoris. Always use lubricant (sold separately) to reduce any friction between you and your partner. Using lubricant will also increases slippery sensations and aide the toy to glide easier. Always turn the power off on the vibrator immediately after use. Clean the vibrator before putting it away. Avoid product exposure to direct sunlight or storage for prolonged periods above 100°F.
Cleaning:  Wash your sex toy by hand with a toy cleanser solution (sold separately), or with mild soap & water, using a damp washcloth (when cleaning, never let the toy sit in water or place under a water faucet or hose.). Clean your toy after each use and again before touching another person's genitals. Allow the toy air dry, and then immediately store in a safe and dry area, away from extreme heat or cold, and away from water. 
Color:  White and Yellow
Length:  7.5 Inches
Width:  4.7 Inches
Material:  Medical Grade Silicone
Package Includes:  Silicone Vibrator, USB Recharging Cable, and Product Instructions
**Item is Waterproof**