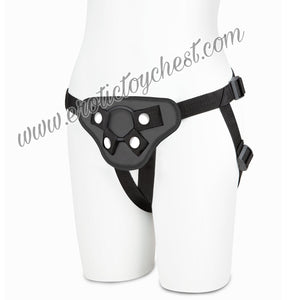 The Beginner's Harness
If you're just starting out with role reversal and harness play, the Beginner's Harness is a great place to begin. This comfortable, basic nylon harness straps on easily and holds the included slim, straight dildo securely.
Fits very comfortably and has a steady and durable construction. Fits mostly all dildos and tightly secures them. Easy to handle, clean, and store.
Color:  Black
Small Ring Diameter:  1.29 Inches
Bigger Ring Diameter:   1.57 Inches
Material:  60% PVC, 40% Nylon
Packaging:  1 Harness