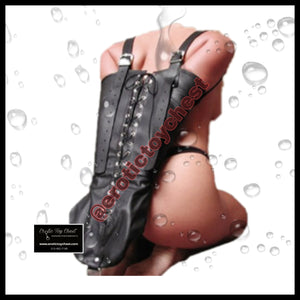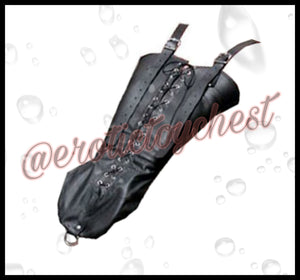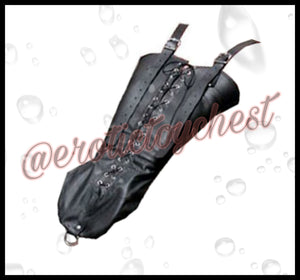 Bondage Arm Harness
The Arm Harness consists of leather straps and silver buckles, and is customized to fit any individual's body. When secured tightly, the arms, wrist, and elbows are then pinned against the back of the body by these straps, not allowing your partner to move or escape. Easy and comfortable to wear. Perfect for beginners to role play or just to experience new erotic pleasures.
Tight or lose? Well that's all up to you! The lacing back lets you decide how tight or loose you want their bondage to be. Laces allow you to pull the sleeve further up the arms by tightening the straps or letting it drop down to accommodate a wider spread between the elbows; in case your mate isn't so flexible. Easy to put on and off, portable, easy to clean and store, suitable for bedroom or hotel use.
Cleaning:  Wipe down your bondage set by hand, using a damp washcloth with a toy cleanser solution. Never let the bondage set sit in water or place under a water faucet or hose. Clean your set after each use and again before touching another person's genitals. Allow it to air dry, and then immediately store in a safe and dry area, away from extreme heat or cold, and away from water.
Length:  22 Inches (straps adjusts up to 6-11 Inches)
Color:  Black
Material:  PU Leather, Metal