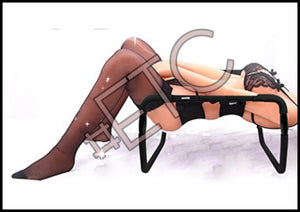 Bondage Sex Position Chair
Go further and deeper than ever before with the multifunction Bondage Sex Position Chair. It is built for heavy, deep, playtime sessions. Just have your lover take a seat on top, or bend over on top of it, and slide right in for the most intensely stimulating pleasure you've ever experienced.
Achieve and maintain difficult positions to give your film plot an unforgettable climax. The chair is easy to take apart and put together. Easy to store in your home or office. Durable heavy-duty iron frame to meet a weight limit of up to 330 lbs.  
This product is soft and made of body-safe material, harmless for your body. By holding the armrest firmly for body balance keeping, your mate will never fall down whether the course is in rapid movement state or is rocked violently. It is easy and safe to use.
Quadruple-layered elastic assists the top's bounce, reducing muscle strain and aching thighs. Your mate no longer has to rely on both feet to support the weight of the body, the upper body weight can be applied on the chair through the armrest, which brings labor-saving experience.
The power of waist can be better controlled by gripping the armrest, easy to master weight and speed, which can effectively coordinate the pace of love and makes the course last longer. Experiment with a variety of positions to discover new and exciting angles for maximum shared pleasure.
Cleaning:  Wipe down your bondage set by hand, using a damp washcloth with a toy cleanser solution. Never let the bondage set sit in water or place under a water faucet or hose. Clean your set after each use and again before touching another person's genitals. Allow it to air dry, and then immediately store in a safe and dry area, away from extreme heat or cold, and away from water.
Color:  Black
Material:  PVC, Iron, Metal, Latex Free
Length: 16 inches
Weight Limit: 300 lbs.
Suited for two person assembly. We recommend asking your partner to assist with the initial set up for safety and ease.