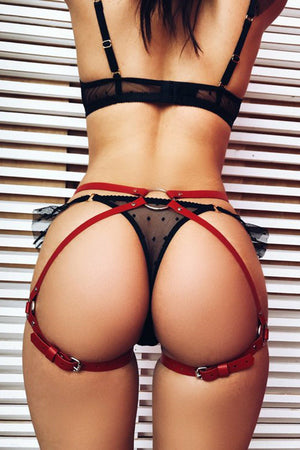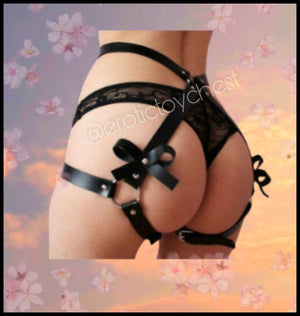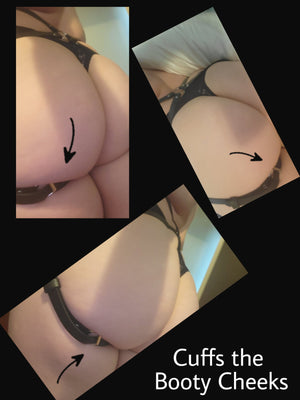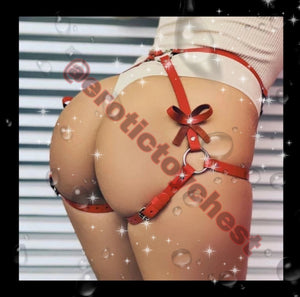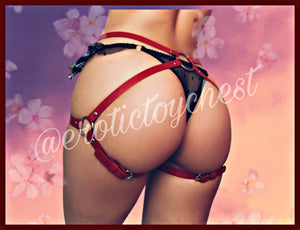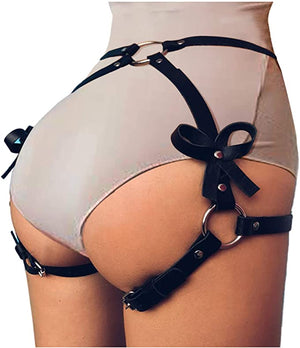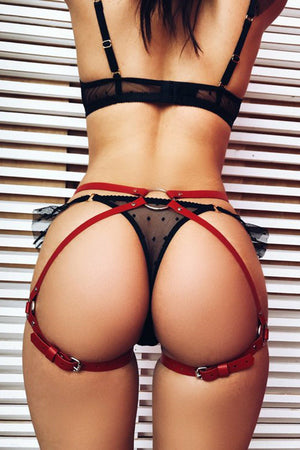 The Big Booty Judy Butt Harness
The Big Booty Judy Butt Harness consists of leather straps and silver buckles (and bows), and is customized to fit any individual's body. When secured tightly, it holds the booty up in place. Easy and comfortable to wear, has a nice tight fit. Perfect for beginners to role play or just to experience new erotic pleasures.
Tighten or loosen the straps to accommodate how you want the harness to fit. Easy to put on and off, portable, easy to clean and store, suitable for bedroom or hotel use.
Helpful Tips: Lay the straps completely across the bed, or a flat surface. The center of the harness is the metal circle which is attached to 4 leather straps. Before putting on the harness, position both the right and left thigh areas of the harness so that it's easier for you to slip into it. Fasten the straps last, to the comfort of your body.
Cleaning:  Wipe down your bondage set by hand, using a damp washcloth with a toy cleanser solution. Never let the bondage set sit in water or place under a water faucet or hose. Clean your set after each use and again before touching another person's genitals. Allow it to air dry, and then immediately store in a safe and dry area, away from extreme heat or cold, and away from water.
Size:  Fits up to a Large
Color:  Red & Black
Material:  Leather, Metal