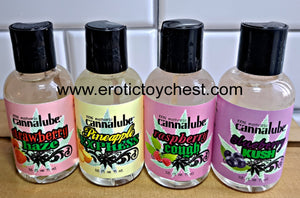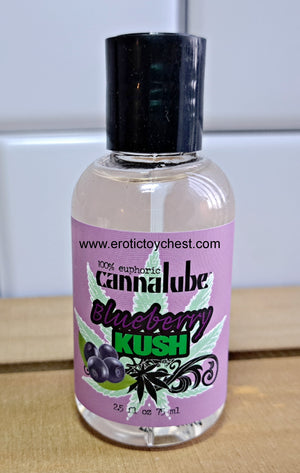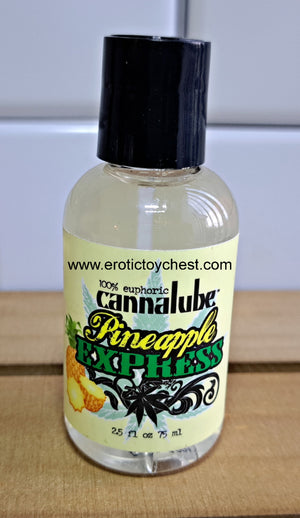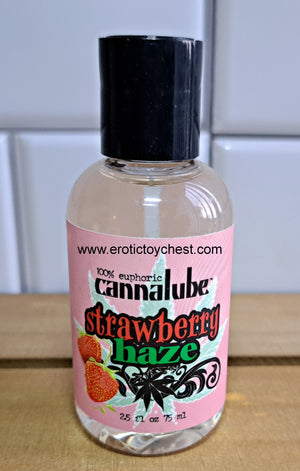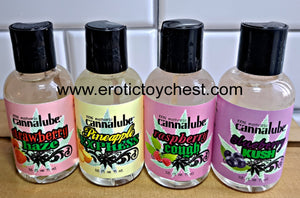 CanniPuss Lubricant
A luxurious personal lubricant created for the "Bed-Lock" enthusiast in mind! Whether you are having fun with a partner or your favorite toy, with this lube, the party never has to end! 
There are various benefits to cannapuss lube, starting with an increase in sexual satisfaction. Though not specifically marketed toward women, cannapuss lube enhances the vaginal experience more so than the penile (for heterosexual partners). Once the lube is applied, it seeps into the vagina's mucus lining, resulting in several enjoyable sensations; users have reported tingling, warm, and relaxed feelings in their vaginal areas. Men might feel more of a numbing sensation, which can aid in going the extra mile and lasting a little longer.
Comes in 4 great tasting flavors, and made with Natural Hemp seed Extracts. Water based, colorless, non-staining, latex friendly, and Ph balance safe.
How to Use:  Apply a small amount to the inner and outer surfaces of the private/intimate areas. Lick and suck the edible gel right off. Your mate will feel the mild cooling sensation while you enjoy the delicious flavor. Proceed with sexual intercourse as normal. Men should wear a condom to practice safe sex. Close cap of the product immediately after use. Avoid product exposure to direct sunlight or storage for prolonged periods above 100°F. Do not use past expiration date. 
Size:  25 fl oz. 
Flavor:  Blueberry Kush, Pineapple Express, Raspberry Cough, Strawberry Haze
Ingredients:  Water, Glycerin, Aloe Vera, Cannabis Sativa Oil, Hydroxyethylcellulose, Sodium Saccharin, Natural & Artificial Flavor, Citric Acid, Potassium Sorbate, Sodium Benzoate. **Product does not contain THC** Product is Edible to taste.