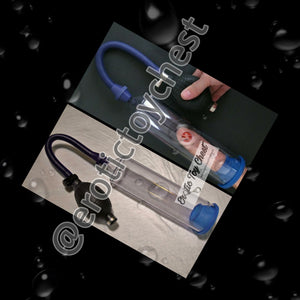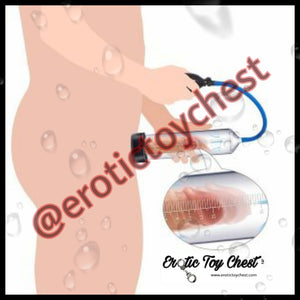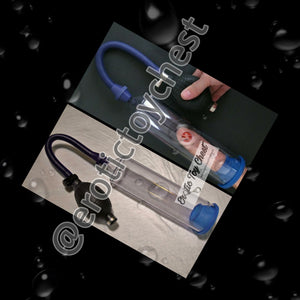 Pump my Penis (Manual)
A penis pump is one of a few treatment options for the inability to get or maintain an erection sufficient for sex (erectile dysfunction). A penis pump consists of a plastic tube that fits over the penis, a hand/manual or battery-powered pump attached to the tube, and a band that fits around the base of the penis once it is erect (constriction ring). A penis pump is sometimes called a vacuum pump or a vacuum erection device.
Grow your penis!! Help make it thicker and stronger by using this manual penis pump. Increase your penis size and thickness and enjoy the hardest erections you have ever had. It is easy to use and clean. Amaze your partner with restored confidence and renewed sexual drive. For the ultimate pleasure experience, go back to the basics.
Penis pumps can be a good erectile dysfunction treatment for several reasons:
Penis pumps are effective. With practice and correct use, the majority of men can get an erection sufficient for sex.
Penis pumps pose less of a risk than do other treatments. The risk of side effects or complications is lower than it is with any other erectile dysfunction treatment.
Penis pumps are noninvasive. They don't require surgery, inserting medication into the tip of your penis or penile injections.
Penis pumps can be used with other treatments. A penis pump can be used along with medications or a penile implant. For some men, a combination of erectile dysfunction treatments works best.
Using a penis pump might help you regain erectile function after certain procedures. For example, using a penis pump might help restore your ability to get a natural erection after prostate surgery or radiation therapy for prostate cancer.
How to use:  Cover the "air release" valve, place your penis into the sleeve-lined shaft, squeeze the medical-style pump ball, and watch your hard-on swell with power! Uncover the "air release" to relieve the pump's pressure and you're ready to play. Always use lubricant (sold separately) to reduce any friction between you and your partner. Using lubricant will also increases slippery sensations and aide the toy to glide easier. Clean the toy before putting it away. Avoid product exposure to direct sunlight or storage for prolonged periods above 100°F.
Cleaning:  Wash your sex toy with a toy cleanser solution (sold separately), or with mild soap & water, using a damp washcloth (when cleaning, never let the toy sit in water or place under a water faucet or hose.). Clean your toy after each use and again before touching another person's genitals. Let the toy air dry, and then immediately store in a safe and dry area, away from extreme heat or cold, and away from water. 
Length:  
Width:  
Color:  Black/Clear
Material:  Silicone
Requires two AA batteries, sold separately, Item is Waterproof.