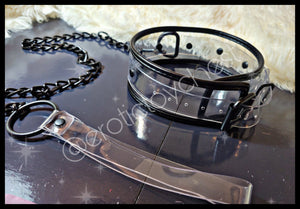 Bondage Clear Neck Collar & Leash
Crafted in soft genuine plastic with double-strap construction, this bondage human dog neck collar is fully comfortable for and safe during play and everyday wear, and features a locking buckle for demonstrations of absolute trust and care. The Leash attached has a sturdy band and strong metal clips provide structure and strength. 
Cleaning:  Wipe down your bondage set by hand, using a damp washcloth with a toy cleanser solution. Never let the bondage set sit in water or place under a water faucet or hose. Clean your set after each use and again before touching another person's genitals. Allow it to air dry, and then immediately store in a safe and dry area, away from extreme heat or cold, and away from water
Color:  Clear/Black
Chain Length: 2 Feet
Chain Width:  1 Inch
Neck Collar Length:  16 Inches (adjustable)
Neck Collar Width:  2 Inches
Material:  Plastic, Metal Chain
Package Includes: Human Leash Collar with attached chain.