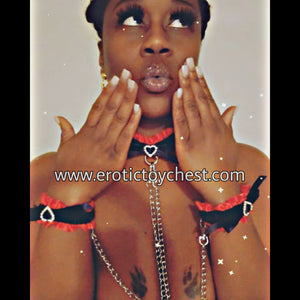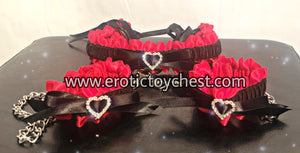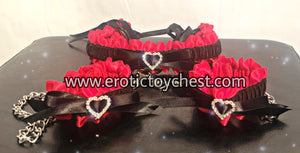 One Night Only Sub Set
Bondage is great for sexual experiences, making everything sexier, more invigorating, more orgasmic,  and spontaneous. Our One Night Only Submissive Bondage Restraint Sets are a must try. They are so soft and comfortable to the skin. The set includes an adjustable neck choker/collar which is attached to two metal chains, one each connecting to a wrist cuff for each hand. 
These restraints are easy to wear and adjust. Traditional belt buckles on straps for quick & easy length adjustment. Velcro cuff fixtures to fit all wrist & ankle sizes.

Material:  PVC, Velveteen, Metal Accessories
Color:  Red and Black with Silver Diamond Studded Hearts
Package Includes:  1 Set of Bondage Kit
**Hand wash cold, line dry. Do not bleach, iron or dry clean**