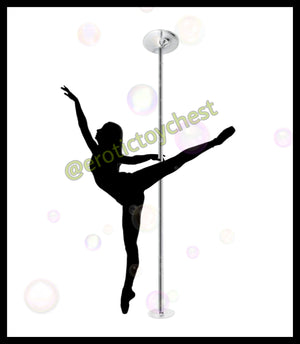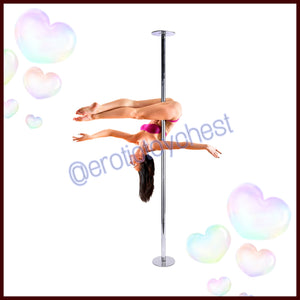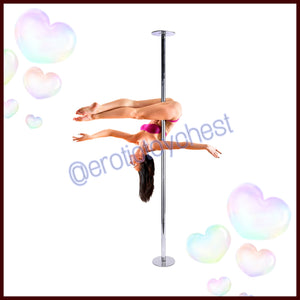 Professional Dance Pole
Turn your bedroom, living room, or party room into your very own private dance stage with this Professional Dance Pole. You're the star and your room's the stage for you to act out your most erotic dance pole fantasies. With the set up in the comfort of your home, you can perform intimate, one-on-one private striptease sessions for you and your lover to enjoy. You'll both love how easy-to-use the pole is, and with practice, you'll be moving seductively and twirling around the pole in no time.
The Professional Dance Pole's height is fully adjustable and includes everything you need to instantly transform any room in your home into your private fantasy dance studio. Put on an incredible performance, try new moves and enjoy new positions you never thought you could pull off. The possibilities are only limited by your imagination and your inhibitions! 
The heavy-duty, stainless steel pole is easy to install and assembles in minutes. The only tools necessary for installation are a ladder, a powerful drill or screwdriver, and a stud finder. The Professional Dance Pole was designed to install in virtually any flat ceiling and uses a sturdy bolt-in mount. Vaulted ceilings, acoustic ceilings, and false ceilings are not recommended. Always check the durability of both the floor and the ceiling prior to installation to ensure sturdiness and safety. If you aren't sure about the installing the pole yourself, contact a qualified handyman to ensure proper installation. 
Benefits of Pole Dancing
Great for fleibility which can ease movement & mobility with age. 
Get your heart pumping. The blood flow required to your muscles is great heart workout.
Stregthening your back and abs can make for easier childbirth and a yummy tummy. 
Burn calories fast! Cardiovascular exercise combined with strength exercise boost calorie burning. 
Pole Dancing makes you feel sexy and well exercised can really boost your confidence and self esteem. 
How to Install:  Instructions Included with Packaging
Packaging Included:  Portable Pole, Carry Bag, Easy Assembly Instruction Booklet.
Color:  Silver
Material:  Chrome
Weight Limit:  250 lbs. 
Adjustable Height:  7.6 ft. - 9 ft.
Pole Diameter:  1.96 in.
**Wash the pole before and after each use.**