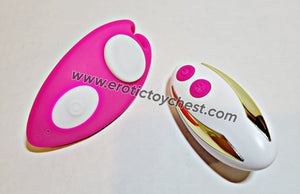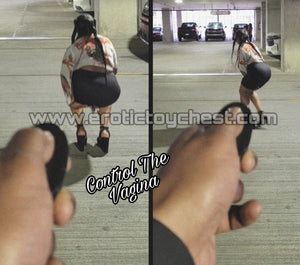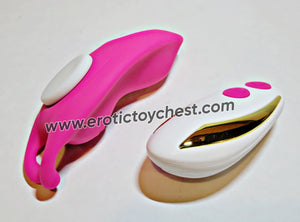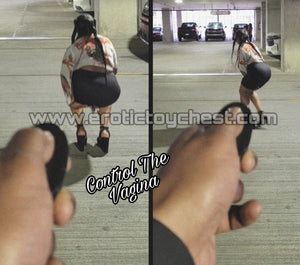 The Date Night Clit Play Panties (Vibrating Undies/Ladies)
Can you hold the moan?! Serious question because our Date Night Vibrators will definitely have you moaning! The Date Night Clit Play Panties is a 10 Frequency Remote Controlled Function Vibrator. It is operated by a handheld remote controller. Use the remote to operate the toy, and enjoy watching your lover quiver and hop to the powerful new sensations.
The toy has powerful vibrating functions which are meant to increase sensation, leading to more intense and deeper orgasms! It's ears vibrate and tickles the clit when worn. It's very powerful, yet very silent and soft to touch. Let your partner control the intensity, speed, and all highs and lows from anywhere! 
Use the toy within a 25 feet range as recommended. It has a strong built in antenna to support its functions. Use it in the bedroom, in the shower or hot tub (yes they are waterproof!), on a date at the dinner table, with friends on a vacation, and many more! The adventures this toy will bring to you and your mate is incredible! Kinky, freaky, intimate, and fun all in one!
How to use:  Let the toy charge for at least 2 hours prior to use. Turn on the vibrator and remote control on by holding the one-touch power button for two seconds. Lay the toy with the curved hump pointing outwards, between the vagina lips. To wear, remove the magnetic cap. The underwear will lie between the toy and the magnetic cap. Always use lubricant (sold separately) to reduce any friction between you and your partner. Using lubricant will also increases slippery sensations and aide the toy to glide easier. Always turn the power off on the toy and the remote, and remove any batteries from the remote controller if able. Clean the toy and the remote before putting them away. Avoid product exposure to direct sunlight or storage for prolonged periods above 100°F.
Cleaning:  Wash your sex toy, and the remote control, with a toy cleanser solution (sold separately), or with mild soap & water, using a damp washcloth (when cleaning, never let the toy sit in water or place under a water faucet or hose.). Clean your toy, and the remote control, after each use and again before touching another person's genitals. Let the toy air dry, and then immediately store in a safe and dry area, away from extreme heat or cold, and away from water. 
Vibrator Measurements:
Length:  3 Inches
Width:  .8 Inches
Color:  Pink and White
Material:  Silicone, Phthalate & Latex Free
Package Includes:  1 Vibrator, 1 Wireless Handheld Remote With Batteries, 1 USB Charging Cable, and Product Instructions.
Vibrating Undies are traditionally known to include underwear. To date, the toys are now more advanced with worldwide technology. Underwear is not included with this item, however, we do recommend for underwear to be worn when using this toy to support your comfort. Be sure to view all of our Vibrating Undies , and decide which one is best for you and your mate!