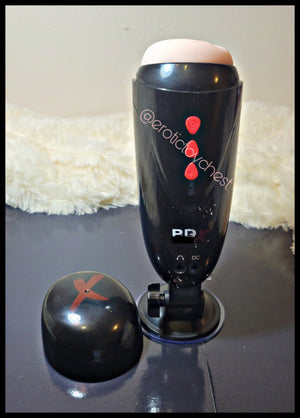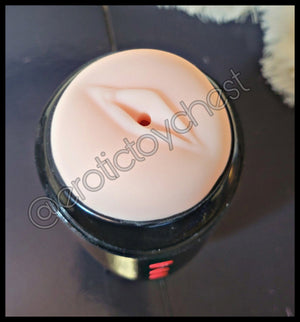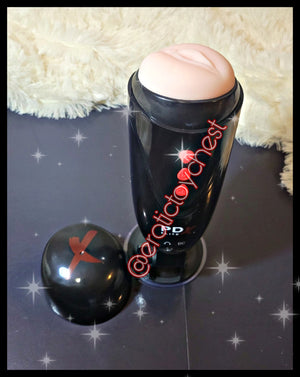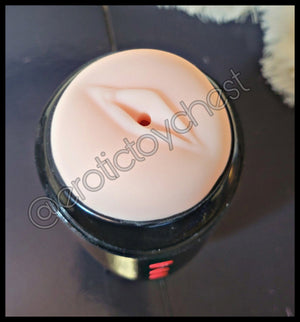 The Dirty Talk XXL
Ready for the best masturbation experience of your life? Perfect for beginners, the Dirty Talk XXL Penis Stroker offers a total sensory pleasure experience. It has powerful vibrations which are combined with passionate moans and sexy talk to take your masturbation sessions to entirely new levels of satisfaction! A super-smooth, lifelike flesh interior sleeve lined with massaging ribs, bumps and pleasing textures will fulfill your fantasies with every thrust.

For fully automated vibration, simply press the top button on the powerful rechargeable motor and enjoy 10 patterns of teasing vibrations that travel all the way up your shaft. Explore your options! The sturdy exterior case with an adjustable locking suction cup can be set to your preferred hands free position, or remove the interior Flesh sleeve for handheld pleasure. Close your eyes and enjoy the voice of seduction and passionate moans as powerful vibration surrounds your shaft with every thrust.
Features:
Lifelike flesh

- Our super-soft flesh material mimics the feel and warmth of real skin.

Intense Vibration

- 10 patterns of stimulating vibration for a mind-blowing masturbation experience.

Power On/Off

- Control ultimate pleasure with the touch of a button.

Talks & Moans

- Speech function allows for sexy phrases and breathy moans of pleasure. Use the talk button to enjoy 3 volume control levels.

USB Rechargeable

- Ready when you are! Easily and conveniently rechargeable offering hours of enjoyment.

Removable & Adjustable Locking Suction Cup

- Intensely powerful suction allows attachment to almost every flat surface with an innovative twisting lock design for an extra strength connection.

Easy 3 Button Operation

- A super-strong rechargeable motor provides voice and vibration control. 
How to Use:  Remove the cap by slowly twisting and then lifting it carefully. The cap has an inner twist lock, so you must twist the cap to unlock it. Once the cap is removed, now you can power on the toy. Be sure to charge the toy for at least 2 hours prior to using. USB charge cord is included.
There are 3 easy buttons to operate this toy. These buttons are:  
TOP BUTTON---Vibration Mode---10 different vibration modes. Click the button once each time to change the vibration setting. Hold the button down for one sec to turn the vibration on/off.
MIDDLE BUTTON---Power On/Off---hold down the button to power the toy on and off.
LAST BUTTON---Talk/Moan/Volume Control---Hold down the button to turn on Talk and Moan settings. Hold the button down to change between 3 different volume controls.
Cleaning:  The interior sleeve is removable for easy cleaning. Wash your sex toy by hand with a toy cleanser solution (sold separately), or with mild soap & water, using a damp washcloth (when cleaning, never let the toy sit in water or place under a water faucet or hose.). Clean your toy after each use and again before touching another person's genitals. Allow the toy air dry, and then immediately store in a safe and dry area, away from extreme heat or cold, and away from water. 
Color:  Black, Red, Nude
Material: Thermoplastic Elastomer (TPE) ABS Plastic
Length: 7 inches
Width: 3.25 inches
Height: 7 inches
Depth: 3.25 inches
Inner Diameter: 2 inches
Insertable Length: 6 inches
Product is rechargeable, USB charge cord included. Also includes 3 FREE Sample Cock Rings to wear while using your Stroker, and/or during Intercourse.