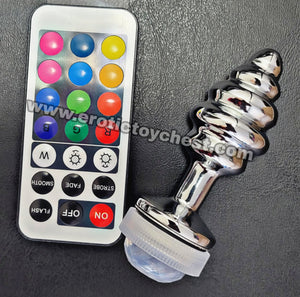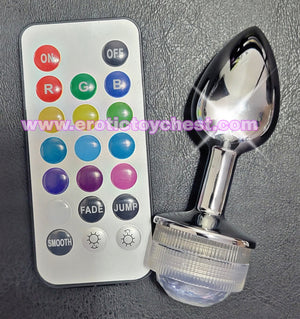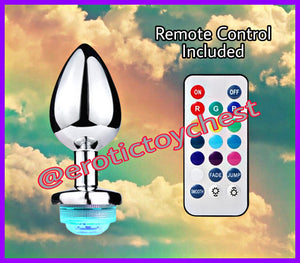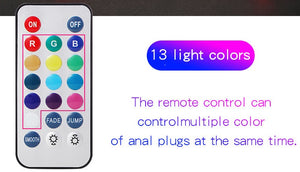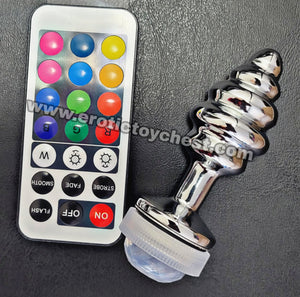 The Disco Light Butt Plug
Light Up Your Anal Play with Flashing LED Lights! The heavy metal anal plug's base puts on a wild show with multiple flashing light settings! Light up your surroundings and your booty at the same damn time!
These butt plugs are sure to satisfy your anal cravings. When the base flashes its bright and colorful LED lights, you'll leave your lover hypnotized with desire! Your butt plug is compatible with all lubricants and creams/oils. 
The speeds and functions of the lights are controllable with the included remote controller. You can make the lights change colors, set the speed at medium or fast, or let the lights continue to play without you controlling it. Just lay the remote control down after you chose this setting and the plug will continuously light up!!
***Item does not vibrate***
How to use: Just slide it in slowly to experience the comfortable feel. Once it's in place, just use the included remote controller to start the light show! (Hint: for best results, use in a dark room!) When it lights up, you'll see a mix of blue, green, and red LED lights swirl around in a whirl of color. Make them swirl around slowly, quickly, or put on a fast and flashy booty show that's unforgettable. This wild light up anal plug is a dynamite way to give that special someone a surprise, whether it's with an in-person show or on video!
How to Clean:  Wash your anal plug, and the remote, with a toy cleanser solution (sold separately), or with mild soap & water, using a damp washcloth (when cleaning, never let the toy sit in water or place under a water faucet or hose.). Be sure to cleanse this area with a wet cloth. Clean your toy, and remote, after each use and again before touching another person's genitals. Let the toy, and the remote air dry, and then immediately store in a safe and dry area, away from extreme heat or cold, and away from water.  
Plug Styles: Original, and Spiral
Length:  3 Inches.
Width:  1.3 Inches
Plug Color:  Silver (Disco Lights)
Material:  Aluminum Metal
Item is Waterproof. Batteries are included.
Included remote controller can control several plugs at one time.