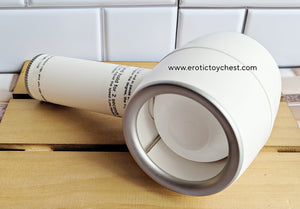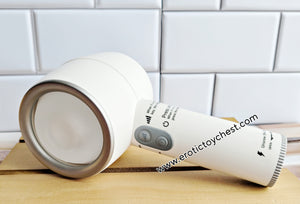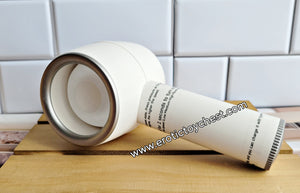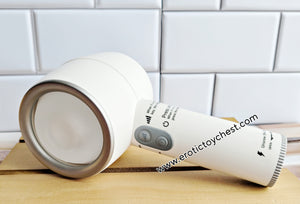 The Magic Cup PRO
The Magic Cup PRO is equipped with a double-ended tunnel, lined with plenty of ribbed texture. It has a sturdy handle and fully automatic percussion motor. It has 3 thrust modes which you can cycle through at the touch of a button. You can also touch pressure-sensitive buttons. The stronger the pressure, the faster the contraction. It's all your choice.
This The Magic Cup PRO male masturbator has a handle, which is easy to hold with one hand when using it. There are three frequency expansion and contraction modes, and the speed is increasing. You can adjust the expansion and contraction speed according to your needs to experience a better masturbation experience.
The first of its kind with a pressure switch that adjusts the intensity according to your strength. If you feel that the three speeds are not enough, don't worry, you can press the pressure sensor button, and the masturbator will adjust the speed according to the force you press. The harder you press, the faster the speed. But the speed of pressure sensing may not match the speed of electric.
The Magic Cup PRO  is 100% waterproof, and its charging method is four-hole magnetic charging. The charging port is protected by a cover that opens by rotating at the bottom of the handle, so there is no need to worry about moisture entering when cleaning..
3 Modes Automatic Telescopic & Strong Motor
Pressure Sensor Manual Speed Control
Four-hole Magnetic Charging at The Bottom
Easy-to-remove TPE Soft liner
Type-C Charging & Ensures Discreetness (resembles a blow dryer)
Instructions:  Charge the toy, using the USB Charge Cord provided, for a minimum of 2 hours prior to using the toy. Power the vibrator on/off by holding down the power button on the toy. You will start to feel its vibrations once it is turned on. Use the toy on any private area of the body that you choose to get you or your partner off, such as the nipples or clitoris. Always use lubricant (sold separately) to reduce any friction between you and your partner. Using lubricant will also increases slippery sensations and aide the toy to glide easier. Always turn the power off on the vibrator immediately after use. Clean the vibrator before putting it away. Avoid product exposure to direct sunlight or storage for prolonged periods above 100°F.
Cleaning:  Wash your sex toy by hand with a toy cleanser solution (sold separately), or with mild soap & water, using a damp washcloth (when cleaning, never let the toy sit in water or place under a water faucet or hose.). Clean your toy after each use and again before touching another person's genitals. Allow the toy air dry, and then immediately store in a safe and dry area, away from extreme heat or cold, and away from water. 
Color:  White and Grey
Length:  8.26 Inches
Diameter:  3.7 Inches
Material:  TPE + ABS
Package Includes:  One Masturbator and USB Recharging Cable
**Item is Waterproof**