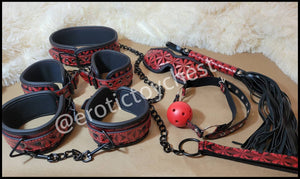 Embossed The Bondage Kit
If being tied up, teased, and pleasured to the edge of climax sounds exciting to you, this Embossed Bondage Set for Couples is exactly what you need to boost your next intimate encounter! Put on the blindfold, wear the mouth gag, get cuffed, spanked, and let your partner surprise you with their line of fun and pleasure. 
Embossed The Bondage Kit Includes: 
💋  Leather Flogger
💋  Human Dog Collar with Leash
💋  Ankle & Wrist Cuffs
💋  Bondage Blindfold
💋  Mouth Ball Gag
All items that can be worn have adjustable straps to fit any size. The rich leather material and interior soft cushion assists with comfort.
Cleaning:  Wipe down your bondage set by hand, using a damp washcloth with a toy cleanser solution. Never let the bondage set sit in water or place under a water faucet or hose. Clean your set after each use and again before touching another person's genitals. Allow it to air dry, and then immediately store in a safe and dry area, away from extreme heat or cold, and away from water. 
Color:  Black, Burgundy
Material:  Leather
Designed:  Embossed
Size:  Adjustable straps to fit all sizes.