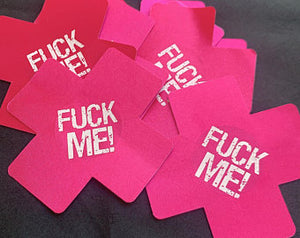 Fuck You Nipple Pasties
The Fuck You Nipple Pasties are latex-free, medical-grade, and is made with waterproof adhesive that stay securely in place for as long as you like or until they are gently removed. Wear them for fashion, or even role playing with your partner during sex.
Color:  Pink
Instructions:  Just peel-and-stick on clean, dry skin. We do not recommend re-use of these pasties. 
**Package Contains one set, which is one pastie for each breast.**