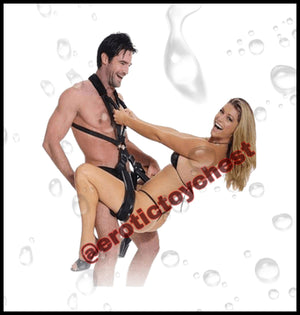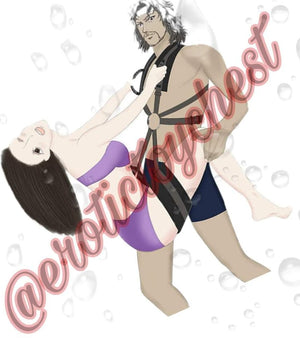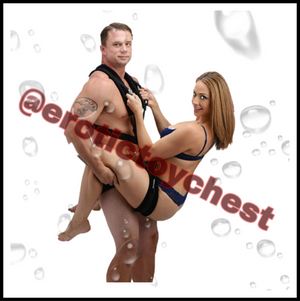 Fantasy Slam (Body Sex Swing)
The Body Fantasy Slam is an adult body sex swing which is made of sturdy velco straps and rubber handles. Body Swing supports up to 250 lbs. Easy to use and easy to wear.
Sex body swings are really fun and you and your partner would love to have this in your home. Generally speaking, sex body swings offer endless possibilities for positions, you just need to be creative and ready to have fun.

Once you get more experience and understand how to use the body swing, it can offer a vast variety of different positions that you and your partner can engage in – without too much effort. Hold on tight and don't let anyone disturb you, or better yet, make that body swing a love swing. Versatile, naughty and perfect for different types of fetish play that both of you will love. Discover many positions using this swing.
Allow your partner to penetrate you with ease, let them taste you and just let them do everything that you want them to do to you. This adult swing allows you to lift the weight off and at the same time adjust the weight you want so penetration can feel different every time. In minutes, your body can be a love swing that will bring your sex acts to new heights. It's fully adjustable and can easily put on to wear within minutes. This is perfect for couples who love kinky erotic play. 
How to use:  Wear the body swing on your body with the rubber handles facing forwards, resting on your chest. Your partner can climb into the slam and use the rubber handles to hold on tight. Clean the toy before putting it away. Avoid product exposure to direct sunlight or storage for prolonged periods above 100°F.

Cleaning:  Wipe down your bondage set by hand, using a damp washcloth with a toy cleanser solution. Never let the bondage set sit in water or place under a water faucet or hose. Clean your set after each use and again before touching another person's genitals. Allow it to air dry, and then immediately store in a safe and dry area, away from extreme heat or cold, and away from water.
Color:  Black
Material:  Rubber and Nylon Straps, Plastic Buckles
Size:  Adjust straps to fit all sizes. Holds up to 250lbs.