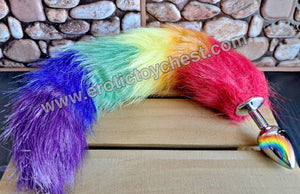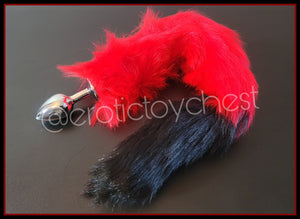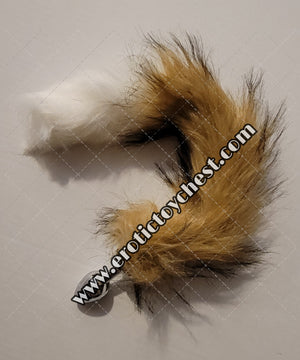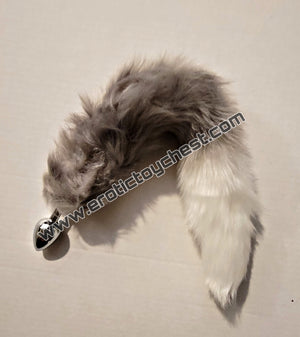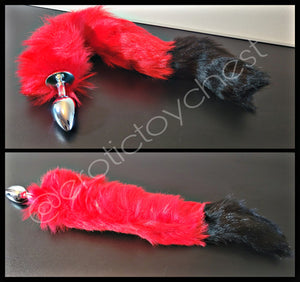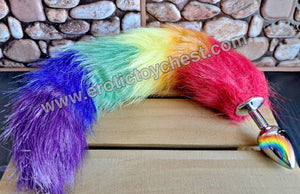 The Fetish Fox Tail
Take a walk on the wild side and get in touch with your inner animal with this ultra-sexy Fetish Fox Tail anal plug. The stainless steel attached anal plugs are slender enough for a beginner, and ample to satisfy an experienced user. It features a tapered design with an accommodating neck for comfort. 
With the addition of a beautifully bushy fox tail that is over 14 inches in length and feels amazing against the skin. This foxy tail anal plug is guaranteed to bring a sense of animalistic fun and play to your love life. Erotic foreplay has never been this visually pleasing!
How To Use:  Insert the anal plug of the tail into the anus. Always use an anal lubricant or anal ease (sold separately) to reduce any friction between you and your partner and to allow a more comfortable and relaxed experience. Using lubricant will also increases slippery sensations and aide the toy to glide easier. 
Cleaning:  Wipe down your plug by hand, using a damp washcloth with a toy cleanser solution. Never let the plug sit in water or place under a water faucet or hose. Clean your plug after each use and again before touching another person's genitals. Allow it to air dry, and then immediately store in a safe and dry area, away from extreme heat or cold, and away from water.    
Color:  Golden Brown/White, Grey/White, Red/Black, and Rainbow
Measurements
Plug Length: 2.5 Inches
Plug Width:  1.5 Inches
Tail Length: 14 Inches 
Material: Silicone-TPR (Plug), Stainless Steel (Plug), and Faux Fur (tail)