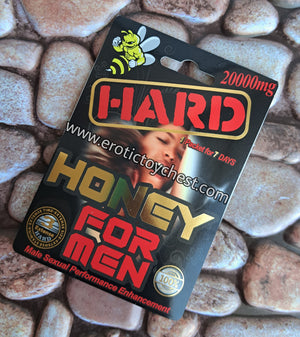 Hard Honey For Men
The Hard Honey For Men Packet will increase and enhance your sexual desire and keep your big man strong and hard. Once you get this honey packet for yourself you'll be as excited as ever to take things to the bedroom. Give your natural sexual mood an erection an incredible boost! You will be hungrier and harder for sex than you've ever been before. Be the male Dom you have always wanted to be!
Product Benefits:
Sexual Stimulant – Royal honey is an all-natural way to stimulate sexual appetite and spark desire between partners.
Endurance – Strengthens the erection without feeling tired.
Confidence – The boost in sexual performance leads to more confidence overall with every lovemaking session.
Hormonal Enhancement – On top of stimulating physical desire, royal honey also increases the body's natural testosterone levels.
Reproductive System Health – Being a product of nature, royal honey possesses nutrients that decrease the risk of prostate illness and other reproductive system conditions.
Directions:  Take one Hard Honey For Men pack one hour before intercourse to help maximize performance. Hard Honey For Men can also be used on a regular basis to maintain optimal conditions of readiness. Take Hard Honey For Men on hour apart from taking other supplements or medication. Keep out of reach of children. Store in a cool, dry space. Do not use more than one capsule every 60 hours.
Size:  15g/0.5 oz.
Package Includes:  1 Honey Packet
Ingredients:  Tribulus Terrestirs, Lyco-pene, L-arginine, Diamana Leaf, Guarana, Yohimbe, Maca, Vitamin-B12, Vitamin-C, Vitamin-D3, Zinc Oxide