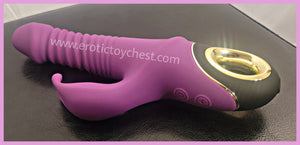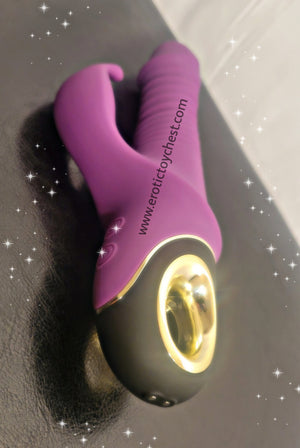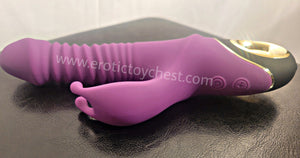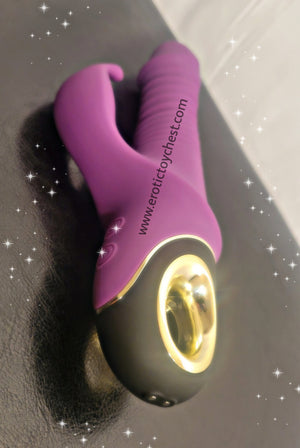 The Thrusty Rabbit 360
Take your G-Spot for such a spin while you keep up the powerful vibes your G-Spot and Clit craves! The Thrusty Rabbit 360 Vibrator will have you indulging in luxuriously lifelike stimulation. Thrusting head targets your internal hot spots, while extra thick, firm bunny ears stimulate your clitoris.
The shaft is curved with raised textures designed for ultimate G-Spot thrills. When you turn on the thrust, it starts pumping up and down for a more realistic experience. Choose from 9 thrusting functions and 7 different pulsation and pattern settings, and experience lifelike fantasy thrusting any time you desire them.
If thrusting isn't enough, good news….this rabbit comes with dual vibrating motors!! You'll feel one in the tip of the thrusting shaft. Every time it goes deep, you'll feel the vibrations even more intensely. The second motor is located in the bunny stimulator. Its soft ears are perfectly positioned to tease your clit. Turn on one motor to start slowly, or both to feel body-quaking vibrations inside and out.
User-friendly controls let you use thrusting and both vibrating motors on their own or turn all three on at once for bed-shaking bliss. Take advantage of the independent controls to mix and match settings for the perfect pleasure blend. This waterproof vibrator makes a great shower time companion. It's also easy to clean and easy to care for.
Rabbit ears can stimulate the G-spot,

 

vaginal canal, and the clitoris for prolong satisfaction
Curved angle shaft for perfect g-spot stimulation
Powerful vibrations internally, externally, or simultaneously.
Soft and comfortable to touch
Easy to operate
How to use:  Easy to operate. Power on the toy by holding down the power button located on the front side. These buttons will control the power (on/off), vibrating, and thrusting speeds and functions. The charge port insertion area is located on the bottom area of the toy's handle. Use the loop on the handle to easy hold and glide the toy while in use. Always use lubricant to reduce any friction between you and your partner or your toy. Using lubricant will also increases slippery sensations and aide the toy to glide easier. 
Cleaning:  Wash your sex toy with a toy cleanser solution (sold separately), or with mild soap & water, using a damp washcloth (when cleaning, never let the toy sit in water or place under a water faucet or hose.). Clean your toy after each use and again before touching another person's genitals. Let the toy air dry, and then immediately store in a safe and dry area, away from extreme heat or cold, and away from water. 
Color:  Purple w/Gold & Black trimming
Length: 9.3 Inches
Width:  1.2. Inches
Material:  Silicone & ABS
**USB Charge Cord Included. Item is waterproof.**