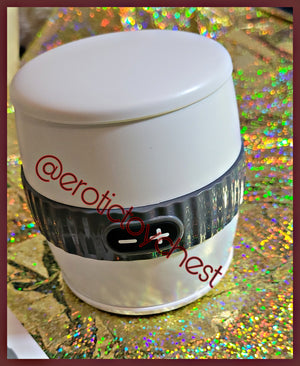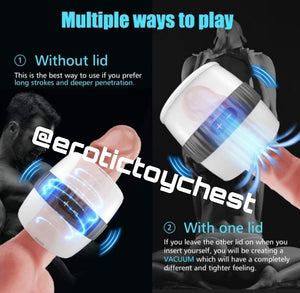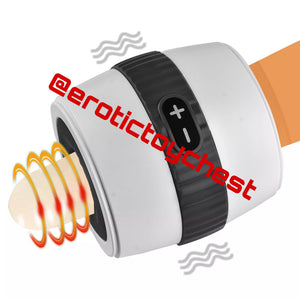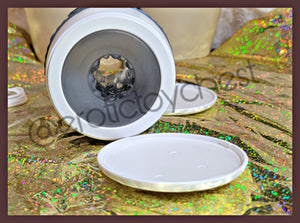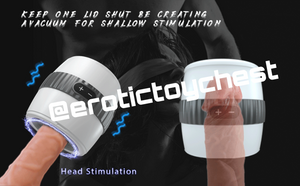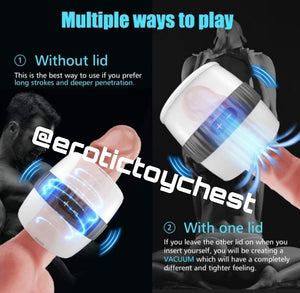 The Magic Cup
The Magic Cup Vibrating Male Masturbator is designed to satisfy your stroking pleasures and also give you a strong vibration satisfaction. Compared with the traditional masturbator, this male masturbator has 2 powerful motors inside and 12 different vibrating modes and speeds to give unprecedented stimulation. The internal tunnel is made of soft, smooth TPE material, which is comfortably snug and is coated with small flaps that give great sensations.
The open-ended design makes it highly versatile enough to use in different ways. Focusing completely on the head, you can give your head intense pleasure as the sleeve really works the nerve endings all around the head. You can also use it as a shaft masturbator without touching your corona or glans. And the head of the penis can protrude out the other end allowing for oral stimulation by your partner.
This male masturbator has a lid at both ends. Keep one lid shut for shallow stimulation, then release to replicate the effects of a deep plunge. If you remove both of the lids, you will be able to insert yourself fully. This is the best way to use if you prefer long strokes and deeper penetration. If you leave the other lid on when you insert yourself, you will be creating a vacuum which will have a completely different and tighter feeling.
Being open at the end does mean it's easy to clean and dries off quickly too. This men's vibrator is just big enough to fit in your hand, and is just the right weight to make it easy to use without getting tired. It's also compact enough for you to pack in any luggage to take away with you, and can be stored and used just as quick. It is an ideal travel buddy ready to upgrade your solo sessions and foreplay anytime, anywhere.
This male sex toys are whisper-quiet compare with other masturbation toys. Rechargeable with USB charging cable, included. 100% Waterproof for use in shower or bath
How to use:  Power on the vibrator with the one touch button. You will start to feel its vibrations. Use the bottoms to control the speed of the masturbator. Insert on the penis head and work your way down the penis with long or short strokes. Always use lubricant (sold separately) to reduce any friction between you and your partner. Using lubricant will also increases slippery sensations and aide the toy to glide easier. Always turn the power off on the toy and unplug any cords immediately after use. Clean the toy before putting it away. Avoid product exposure to direct sunlight or storage for prolonged periods above 100°F. Able to charge anywhere with a USB port such as a phone charger, computer, in the car, etc.  
Cleaning:  Wash your sex toy with a toy cleanser solution (sold separately), or with mild soap & water, using a damp washcloth (when cleaning, never let the toy sit in water or place under a water faucet or hose.). Clean your toy after each use and again before touching another person's genitals. Let the toy air dry, and then immediately store in a safe and dry area, away from extreme heat or cold, and away from water. 
Length:  4.1 Inches
Width:  3.9 Inches
Color:  Black/White
Material:  ABS + TPE, Phthalate & Latex free
USB Charge Cord Included. Item is Waterproof.