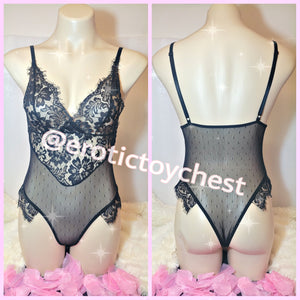 The Naked Teddy Bodysuit
The Naked Teddy Bodysuit is so comfortable, very sexy, and easy to take on and off. Sheer look so your mate sees every inch! The Naked Teddy is great one on one time with your mate or even a sexy photoshoot.  
Lingerie sets are a special addition to any wardrobe. It's nice to have a gorgeous set waiting in your closet to pull out on a special occasion or night with your significant other, but many lingerie sets make great everyday wear, too! 
Size:  S (0-10), L (12-16)
Color:  Black
Pattern: Lace, Floral
Material:  Nylon
**Hand wash cold, line dry. Do not bleach, iron or dry clean**