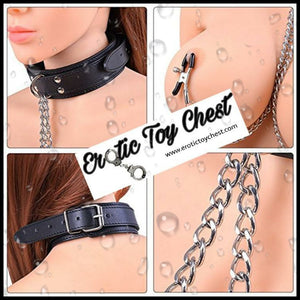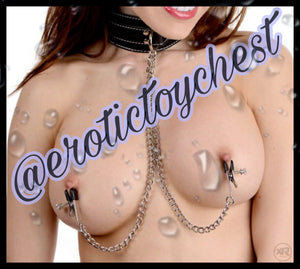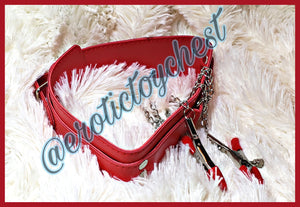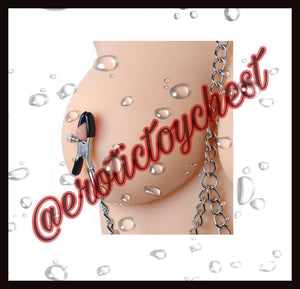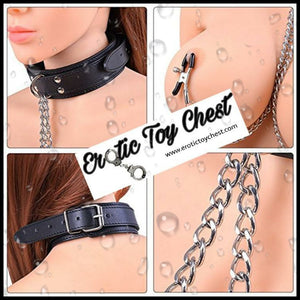 Nipple Pincher & Choker
The Neck Choker Nipple Play Set make more fun in your sex life. We provide you fully adjustable and fairly comfy. The nipple clamps come with adjustable pressure screws. Part of the BDSM collection (Bondage and Discipline).
Nipple Clamps provide hands-free nipple stimulation.
tug
pinch
squeeze
flap
twist
tease
Nipples are a part of the body you can do some many wondrous things to!
How to use:  Fasten the neck collar around the Sub's neck first. Then attach the nipple clamps to each set of nipples. You can adjust the size of the neck collar, and also the tightness/looseness of the nipple clamps. Clean the items before putting it away. Avoid product exposure to direct sunlight or storage for prolonged periods above 100°F.
Cleaning:  Wipe down your bondage set by hand, using a damp washcloth with a toy cleanser solution. Never let the bondage set sit in water or place under a water faucet or hose. Clean your set after each use and again before touching another person's genitals. Allow it to air dry, and then immediately store in a safe and dry area, away from extreme heat or cold, and away from water.  
Choker Collar Details:
Length:  18 Inches
Width:  .5 Inches
Color:  Black, Pink, and Red
Material:  Faux Leather
Nipple Chain Details:
Length:  12 Inches
Width:  .4 Inches
Color:  Silver
Material:  Implanted grade stainless steel
Package Including: 1x Leather Choker Collar with Nipple Chain and Clamps
Item is Waterproof. Adult toys add more pleasure during sex or masturbation. Some toys are also used for medical reasons (w/physician recommendations).