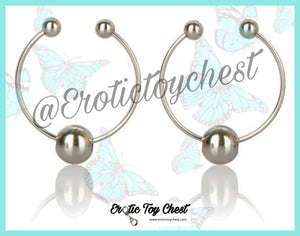 Nipple Ring Jewelry (Non-Pierced)
We can all agree that pierced nipples are super hot, but, if you're not quite ready for the needle, it's okay! Non-piercing nipple jewelry looks totally real and the best part is, you can have them when you want them, and take them out when you don't. These exotic silver nipple rings will make you feel sexy and will drive your partner wild when they poke through your shirt, hinting at the nipple fun about to come!
Nipple Clamps/Rings provide hands-free nipple stimulation.
tug
pinch
squeeze
flap
twist
tease
Nipples are a part of the body you can do some many wondrous things to!
How to Use:  Attach each nipple ring to each nipple. Be careful, for some users who have never experienced this type of bondage, it may seem painful. Adjust the nipple ring to your comfort. These are non-pierced rings. You do not have to have an actual nipple piercing to wear these. 
Cleaning:  Wipe down your items by hand, using a damp washcloth with a toy cleanser solution. Never let the items sit in water or place under a water faucet or hose. Clean your set after each use and again before touching another person's genitals. Allow it to air dry, and then immediately store in a safe and dry area, away from extreme heat or cold, and away from water. 
Length:  1 Inch
Width: 1 Inch
Material:  Implant grade stainless steel
Packing Includes:  2 non-tarnishing, fully adjustable nipple rings.