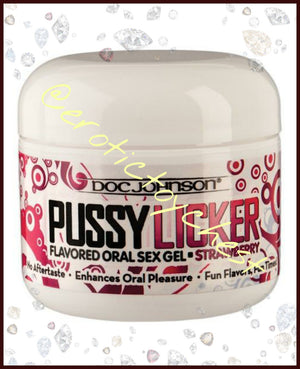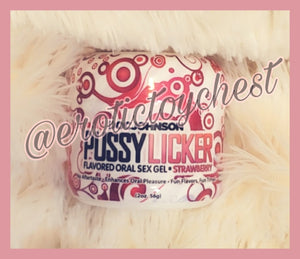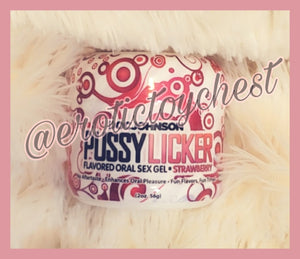 Pussy Lickas
If you love to eat vagina for breakfast, lunch and dinner, now you can enjoy it as dessert with the Pussy Licker Edible Oral Sex Gel. This gel is the perfect pussy topping, making the vagina taste sweet and sugary. Licking pussy has never been so delicious and fun. Slather it on your favorite pussy and give it a taste. You might skip dinner and go straight to dessert! Yummy!
• Enhances Flavor During Oral Sex
• Delicious Lickable Flavor
• Mild Cooling Sensation
• Freshens Breath
• Non-Sticky Water-Based Formula
• No Parabens or Sugar
• PETA-Certified, Cruelty-Free
• Proudly Made in America
How to Use:  Apply a small amount to the inner and outer surfaces of the private/intimate areas. Lick and suck the edible gel right off. Your mate will feel the mild cooling sensation while you enjoy the delicious flavor. Proceed with sexual intercourse as normal. Men should wear a condom to practice safe sex. Close cap of the product immediately after use. Avoid product exposure to direct sunlight or storage for prolonged periods above 100°F. Do not use past expiration date. 
Size:  2 oz. 
Flavor:  Strawberry
Ingredients:  Water (Aqua), Glycerin, Flavor (Aroma), Carbomer, Xanthan Gum, Potassium Acesulfame, Sodium Hydroxide, Diazolidinyl Urea, Sodium Benzoate, Posassium Sorbate, Red 40 (Cl 16035)
**Product is edible**