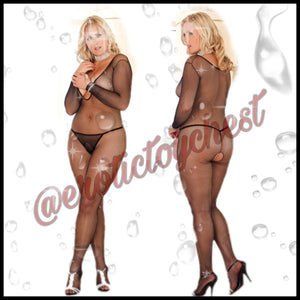 The Pleasure Pussy Fishnet Bodystocking (Plus Size Available)
Tempt and tease your lover with this Pleasure Pussy Fishnet V-Cut Bodystocking. The revealing sheer fishnet bodystocking features a seductive criss cross back, spaghetti straps and open crotch.
Lingerie sets are a special addition to any wardrobe. It's nice to have a gorgeous set waiting in your closet to pull out on a special occasion or night with your significant other, but many lingerie sets make great everyday wear, too! 
Size:  1X-3X (16-24)
Color:  Black
Material:  100% Nylon
**Hand wash cold, line dry. Do not bleach, iron or dry clean**