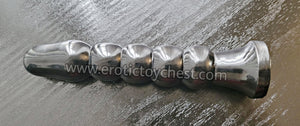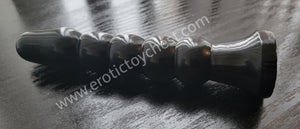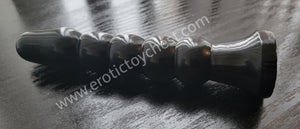 The Kinky Beaded Anal Plug
Your rear end deserves something high end! There's no better option for rear end pleasure than these Kinky Beaded Anal Plug. The Kinky Beaded Anal Plug is designed for maximizing rear end pleasure that comfortably eases you into an experience that will heighten sexual sensation and deliver a climax you can't get from any other type of stimulation. Use alone or accessorize lovemaking with a partner!
Kinky Beaded Anal Plugs are adult toys consisting of multiple spheres or balls attached together in series which are continuously inserted through the anus into the rectum and then removed with varying speeds depending on the desired effect.

Kinky Beaded Anal Plugs can be incorporated into many fetishes that involve rear end sex, ass worship, spanking, enemas or anything involving the buttocks, anus, or the rear end area. As with all rear end sexual activity, the Kinky Beaded Anal Plug and the rectum should be well-lubricated with a sexual lubricant intended for rear end sex. It is important to do this as the rectum can be easily ripped, torn or injured.
How To Use:  Slowly insert the Kinky Beaded Anal Plug into the anus at the submissive's allowance level (this should always be discussed and agreed upon prior to sexual intercourse). You will be able to guide the plug easily, moving the plug in and out of the anus. Alternatively, it can be placed inside of a condom, which is recommended if it is shared with a partner. Always use lubricant (sold separately) to reduce any friction between you and your partner. Using lubricant will also increases slippery sensations and aide the toy to glide easier. 
Cleaning:  The plug can be washed by hand using mild soap and luke-warm water, and/or using a toy cleaner (sold separately). When cleaning, never let the toy sit in water or place under a water faucet or hose. Clean your toy after each use and again before touching another person's genitals. Allow the toy air dry, and then immediately store in a safe and dry area (preferably it's storage box), away from extreme heat or cold, and away from water. 
Color: Black
Length: 5.7 Inches
Width: 0.2 Inches
Material: Silicone
Package Includes: 1 Beaded Anal Plug
Item is Waterproof