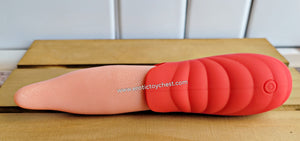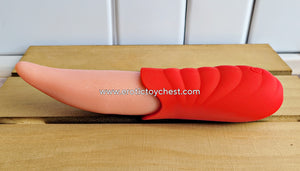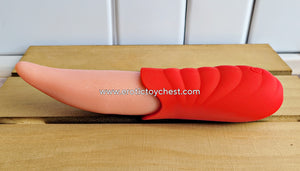 The Tongue Entanglement
The Tongue Entanglement vibrator will deliver a realistic experience for those who prefer external pleasure over traditional intercourse anytime! The tongue goes as fast as the speed allows, and you are in control!
Did you know that some women can't even get off unless they receive external, clitoral stimulation? That means you can pump like a champ and shake your hips like Elvis and she'll still just lay there like nothing happen. That's why vibrating tongue sex toys have become such a popular alternative to traditional oral sex. Not only do they provide consistent, targeted stimulation but they also have more stamina than any human partner you'll ever meet.
The Tongue Entanglement is super powerful with 10 modes of vibrations for different stimulation practices. It has high quality material, safe and non-toxic to the skin and body. A realistic and ergonomic design, soft, and flexible.
Instructions:  Charge the toy, using the USB Charge Cord provided, for a minimum of 2 hours prior to using the toy. Power the vibrator on/off by holding down the power button on the toy. You will start to feel its vibrations once it is turned on. Use the toy on any private area of the body that you choose to get you or your partner off, such as the nipples or clitoris. Always use lubricant (sold separately) to reduce any friction between you and your partner. Using lubricant will also increases slippery sensations and aide the toy to glide easier. Always turn the power off on the vibrator immediately after use. Clean the vibrator before putting it away. Avoid product exposure to direct sunlight or storage for prolonged periods above 100°F.
Cleaning:  Wash your sex toy by hand with a toy cleanser solution (sold separately), or with mild soap & water, using a damp washcloth (when cleaning, never let the toy sit in water or place under a water faucet or hose.). Clean your toy after each use and again before touching another person's genitals. Allow the toy air dry, and then immediately store in a safe and dry area, away from extreme heat or cold, and away from water. 
Color:  Flesh & Red
Length:  7.5 Inches
Width:  3.7 Inches
Material:  Medical Grade Silicone
Package Includes:  Silicone Vibrator, USB Recharging Cable, and Product Instructions
**Item is Waterproof**