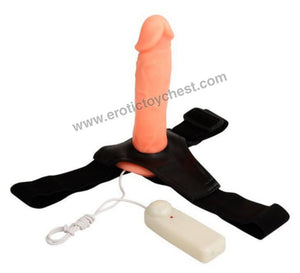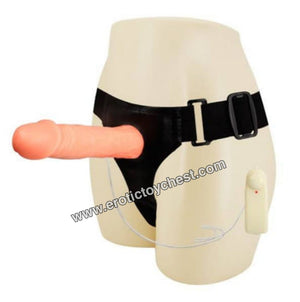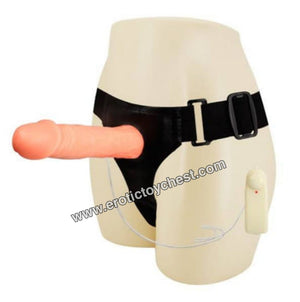 The Pumped & Pleased Strap-On
The Pumped & Pleased Strap-On is a soft and comfortable strap on harness with a dong attached, operated by a remote controller. The remote controls several multi-speed vibrations. The remote also has a glow in the dark feature, for easy to find. Enjoy multiple play ways for anal and vaginal beginners and experts with incredible excitement. It has adjustable straps to fit waist. The dong of the harness is detachable, and recommended to be detached for easy cleaning. 
Instructions:  Use the adjustable straps on the harness to fit perfectly and comfortably. Use the remote controller provided to change the vibrating speeds and functions on both dongs. Always use lubricant (sold separately) to reduce any friction between you and your partner. Using lubricant will also increases slippery sensations and aide the toy to glide easier. Clean the toy before putting it away. Avoid product exposure to direct sunlight or storage for prolonged periods above 100°F. 
Cleaning:  Wash your harness, dong, and remote controller by hand with a toy cleanser solution (sold separately), or with mild soap & water, using a damp washcloth (when cleaning, never let the items sit in water or place under a water faucet or hose.). Clean your items after each use and again before touching another person's genitals. Allow the harness, dong, and remote controller to air dry, and then immediately store in a safe and dry area, away from extreme heat or cold, and away from water. 
Dildo Color: Flesh
Dildo Length: 8.26 Inches
Dildo Width:  1.8 Inches
Harness Size:  Adjustable straps to fit all sizes
Harness Material: PVC
Harness Color:  Black
The remote control is operated by 2 AA batteries (sold separately).
The harness and dongs are waterproof.