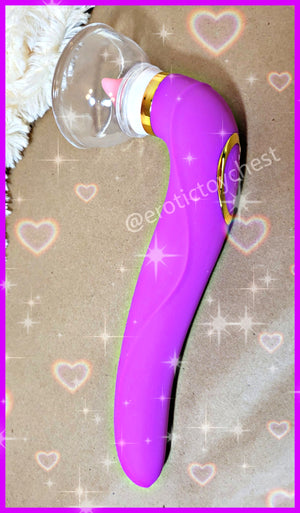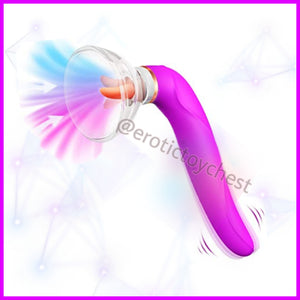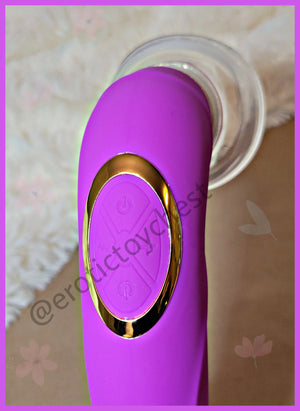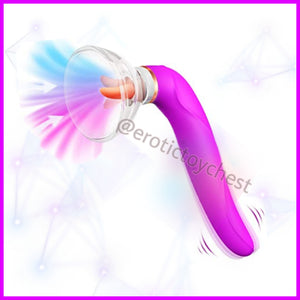 The Tantalizer
The Tantalizer Dual Tongue Sucking Massager is a two sided vibrating massager. The suction and licking end is near the top, great for intense clitoral, nipple, and anal stimulation. The vibrating dildo end is at the bottom, insertable to please the vagina or anus. The massager has 8 frequency suction/licking modes so you can find the function or combination that works for you. The soft tongue stimulates your private parts, bringing you more and more to orgasm. The bottom end has powerful vibrations, sending them straight to your sweet spots to create tantalizing sensations.

Take it into the bath or shower for aquatic play, make cleaning easy because you don't have to worry about getting it wet. In addition, USB fast charging provides you with long-term uninterrupted enjoyment. A perfect toy all the way around.
How to use:  Power on the vibrator with the one touch button. You will start to feel the vibrations and the movement of the tongue. Use the toy on any area that you choose to get your or your partner off, such as the nipples or clitoris. Always use lubricant (sold separately) to reduce any friction between you and your partner. Using lubricant will also increases slippery sensations and aide the toy to glide easier. Always turn the power off on the toy and unplug any cords immediately after use. Clean the toy before putting it away. Avoid product exposure to direct sunlight or storage for prolonged periods above 100°F. Able to charge anywhere with a USB port such as a phone charger, computer, in the car, etc.  
Cleaning:  Wash your sex toy by hand with a toy cleanser solution (sold separately), or with mild soap & water, using a damp washcloth (when cleaning, never let the toy sit in water or place under a water faucet or hose.). Clean your toy after each use and again before touching another person's genitals. Allow the toy air dry, and then immediately store in a safe and dry area, away from extreme heat or cold, and away from water. 
Length:  12 Inches
Color:   Purple
 Material:  Silicone
Product is rechargeable, USB charge cord included. Item is Waterproof.