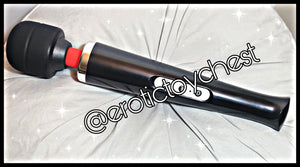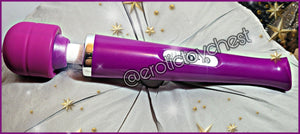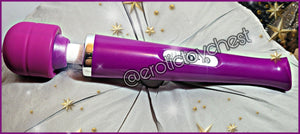 The Magic Massaging Wand
The Magic Massaging Vibrating Wand features a stylish, user-friendly design and is perfect for those who are new to wand style vibrators. This wand style massager provides deep, satisfying vibrations at both low and high speeds for a multitude of sensual applications. It's a cordless wand with a long handle for easy maneuvering. It has a flexible neck and easy to use and operate. 
This is a great device for personal massages and muscle relaxation. You may be feeling tired from work. There is nothing better than offering a nice, comfortable massage with this. With its multispeed pulse patterns and powerful vibration settings, it will quickly melt your stress away and relieve your tension. Also ensures complete relief to aching muscles from your feet, legs, arms, neck, back, hands, shoulders etc.
Bring your wand into the bath or shower with you as it is completely submersible! It's waterproof, fun, and strong enough for even the most demanding user. Perfect for intense clitoral and nipple stimulation, or just to loosen and ease the pain in our body muscles. 
Color:  Black, and Purple
Length: 12.6 Inches

Width: 2.5 Inches
Material:  Medical Grade Silicone

**USB Charge Cord Included. Item is waterproof**