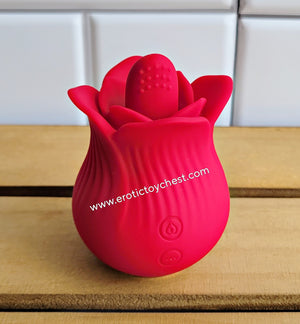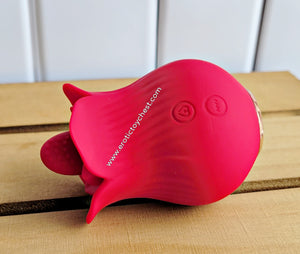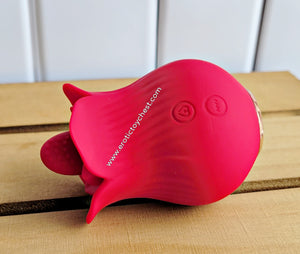 The Rose SRT
The Rose SRT is a powerful licking massager which has 10 different patterns of licking intense levels, all of which are accompanied by vibrating and suction pulsations. The device is made of waterproof, medical-grade silicone, and can be recharged via a magnetic USB base. When fully charged, it provides up to two straight hours of stimulation.
The rotating airflow generated by the internal vibration. Licks and teases the private parts you want to be teased. With one click, you can easily change the fun with different suction speeds. It easily fits into the palm of your hand, easy to operate. 
The variety of settings and rhythms are amazing, and the licking mixed with pulsating will drive you absolutely insane. Perfect for clitoris, nipple, anal, and penis head massage stimulation. The cute appearance makes it easy to carry around everywhere with you, and you can experience the ultimate thrill of "oral sex" at any time
Instructions:  Charge the toy, using the USB Charge Cord provided, for a minimum of 2 hours prior to using the toy. Power the vibrator on/off by holding down the power button on the toy. You will start to feel its vibrations once it is turned on. Use the toy on any private area of the body that you choose to get you or your partner off, such as the nipples or clitoris. Always use lubricant (sold separately) to reduce any friction between you and your partner. Using lubricant will also increases slippery sensations and aide the toy to glide easier. Always turn the power off on the vibrator immediately after use. Clean the vibrator before putting it away. Avoid product exposure to direct sunlight or storage for prolonged periods above 100°F.
Cleaning:  Wash your sex toy by hand with a toy cleanser solution (sold separately), or with mild soap & water, using a damp washcloth (when cleaning, never let the toy sit in water or place under a water faucet or hose.). Clean your toy after each use and again before touching another person's genitals. Allow the toy air dry, and then immediately store in a safe and dry area, away from extreme heat or cold, and away from water. 
Color:  Red
Length:  3.14 Inches
Width:  2.24 Inches
Material:  Medical Grade Silicone
Package Includes:  Silicone Vibrator, USB Recharging Cable, and Product Instructions
**Item is Waterproof**