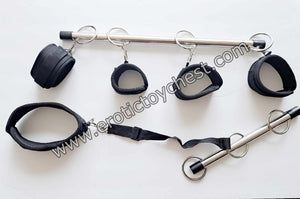 The Spreader Bar Pro
PRODUCT DESCRIPTION ON THE WAY!!
Cleaning:  Wipe down your bondage set by hand, using a damp washcloth with a toy cleanser solution. Never let the bondage set sit in water or place under a water faucet or hose. Clean your set after each use and again before touching another person's genitals. Allow it to air dry, and then immediately store in a safe and dry area, away from extreme heat or cold, and away from water.
Cuff Size:  Adjustable straps to fit all sizes. 
Cuff Material:  PVC + Metal, and Velcro
Cuff Color: Black
Neck Bar: 
Length:  12.2 Inches
Width:  1 Inch
Ankle & Wrist Bar:
Length:  19.3 Inches
Width:  1 Inch