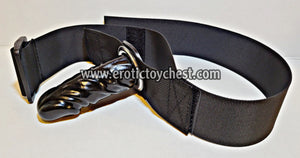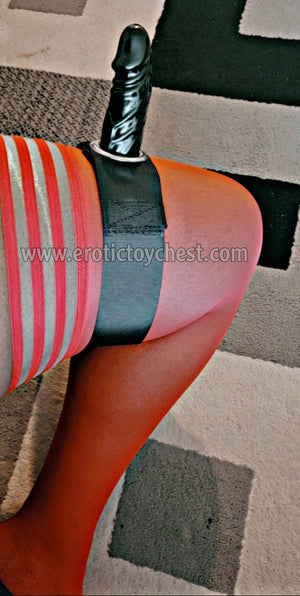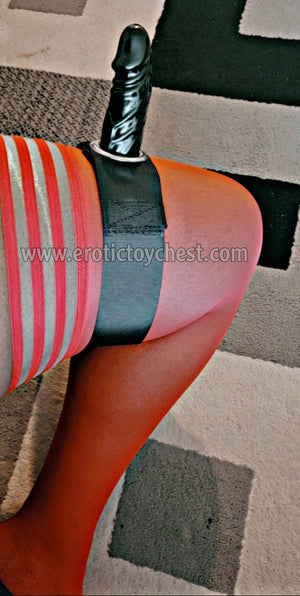 The Thigh Rider
Get connected in the bedroom, if you enjoy watching your lover you will love to see them bouncing away in delight with our Thigh Rider Leg Harness. Simply wrap around your thigh and let your other half climb on. Pleasure yourself while you're watching their every move as there having the time off their lives on your thigh, and as there doing all the work I'm sure you will be able to find something else to do with your free hand. Make sure to lube up before play for even more sensational pleasure.
HOW TO USE:  Strap the harness around your thigh and allow your mate to ride and have a good time! 
CLEANING: Wipe down your toy by hand, using a damp washcloth with a toy cleanser solution (when cleaning, never let the toy sit in water or place under a water faucet or hose.). Clean your toy after each use and again before touching another person's genitals. Let the item air dry, and then immediately store it away, unless it is a permanent part of your furniture collection, then it is fine to keep it out for use.
STORAGE:  Store this product in a safe and dry area, away from extreme heat or cold, and away from water. Avoid product exposure to direct sunlight or storage for prolonged periods above 100°F.
COLOR:  Black
STRAP LENGTH:  23.5 Inches
DILDO LENGTH:  3.5 Inches
WIDTH:  1.4 Inches
MATERIAL: Silicone Toy, PVC/Nylon Strap
PACKAGE INCLUDES: 1 Harness attached with a compatible mini dildo
WATERPROOF:  Yes
***Please seek all medical questions from a physician, for we cannot provide medical advice nor recommendations.***