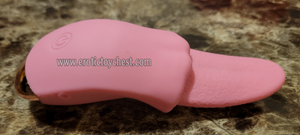 The Tongue Licka
The Tongue Licka is a tongue vibrator which is perfect for foreplay and safe pleasure. This vibrator is light enough and convenient enough to give you the control to use it at any angle, which both singles and naughty couples will love, which definitely adds to the fun of couples. Commonly used on the clitoris, nipples, and other genital areas of the male and female body. The toy has 10 vibration modes for you to choose from. It's soft and flexible, and looks just like a real tongue. The tongue itself does not move.
Made of high-quality silicone, safe and soft to touch. This vibrator will leave you wanting more and more. The 5-inch length is perfect for reaching all those sensitive spots, while the waterproof design means you can take this vibrator wherever you go. USB rechargeable for your convenience, the Tongue Licka vibrator is sure to become your new favorite toy.
HOW TO USE: After charging your toy, power on the toy by holding down the power button. Follow the same steps to power off the toy. While the toy is on, click the same button once to change vibration functions. 
CLEANING: Wipe down your toy by hand, using a damp washcloth with a toy cleanser solution (when cleaning, never let the toy sit in water or place under a water faucet or hose.). Clean your toy after each use and again before touching another person's genitals. Let the item air dry, and then immediately store it away, unless it is a permanent part of your furniture collection, then it is fine to keep it out for use.
STORAGE: Store this product in a safe and dry area, away from extreme heat or cold, and away from water. Avoid product exposure to direct sunlight or storage for prolonged periods above 100°F.
COLOR: Pink
LENGTH: 5 Inches
WIDTH: 2.5 Inches
MATERIAL: Silicone
PACKAGE INCLUDES: 1 Toy, 1 Silk Storage Pouch, and 1 USB Charge Power Cord
WATERPROOF: Yes
***Please seek all medical questions from a physician, for we cannot provide medical advice nor recommendations.***