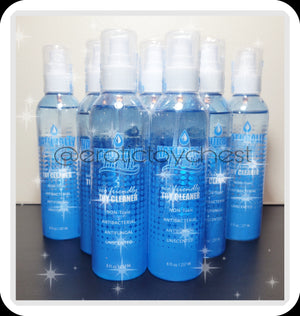 Antibacterial Toy Cleanser
Keep your favorite pleasure products clean, safe, and fresh with this antibacterial spray-on cleanser. This unique cleansing agent gently cleans and disinfects surface bacteria, yet it's mild enough to use every time. Use before and after using your toys. This not only ensures they are clean and ready to use, but it also promotes the lifespan of your toys.
The toy cleaner is non-toxic and chemical free! The advanced body-safe and earth friendly ingredients are formulated to keep your toys fresh and clean. It is both antibacterial and anti fungal ensuring optimum sanitation and freshness. 
DIRECTIONS:  Remove batteries, and all USB cords before cleaning. Spray the cleaner over the entire surface and body area. Next, wipe down with a clean, damp cloth. Rinse thoroughly and let the toy air dry in a clean and safe area. 
SIZE:  8 oz. (Non-Scented)
INGREDIENTS:  Deionized H2O, Natural Prophanediol, Citric Acid