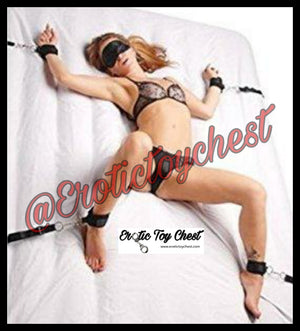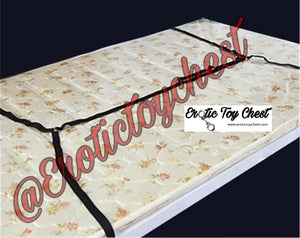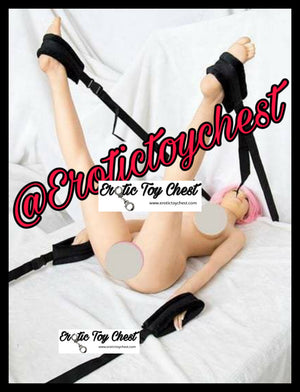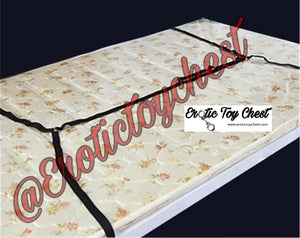 No Escaping Bed Restraints
No Escaping Bed Restraints can be used to turn any size bed into a place of binding pleasure. Restraint straps quickly fit beneath mattress or frame without hooks. Restrain your partner's arms or legs from the sides or the top and bottom of the bed. Includes 4 cuffs and restraint straps. Portable and travel-sized. Sets up in seconds. This can be a permanent addition to your bed. Once it's set up, no need to remove it, unless you want to!
How To Use:  The straps will be placed between the box spring and the mattress of the bed. Remove the mattress, and spread the bed restraints across the box spring, letting all four cuffs hang to the floor. Be sure each cuff is positioned near each corner of the box spring. Now place your mattress back in place, on top of the box spring and now on top of the bed resraints. The bed restraints are now in place. You can now tie your partner's ankles and wrists with no escaping! Once you get used to the restraints, you will explore all of the different positions you can try. 
Cleaning:  Wipe down your bondage set by hand, using a damp washcloth with a toy cleanser solution. Never let the bondage set sit in water or place under a water faucet or hose. Clean your set after each use and again before touching another person's genitals. Allow it to air dry, and then immediately store in a safe and dry area, away from extreme heat or cold, and away from water.
Color:  Black
Material:  Nylon and Silicone Plastic buckles and chains
Size: Heavy Duty Adjustable straps to fit all sizes. Straps fit all size beds. 
Package Includes:  One No Escaping Bed Restraint Set which has two ankle and two wrist cuffs attached.