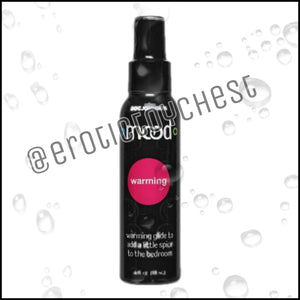 Hot Warming Lubricant
This Hot Warming Lubricant creates a gentle warming sensation on contact that quickly prepares you for sexual intimacy and eases the discomfort of genital dryness for women during sex. This warming jelly lubricant helps create more intense and enjoyable intimate moments by giving you an easy, natural glide with a hint of heat that you and your partner will both love.
Delivers pleasurable warming sensation
Travel friendly bottles
How to Use: 
 Spray a few sprays, a
 small amount, to the inner and outer surfaces of the private/intimate areas. Rub in the lubricant into the skin. You and your partner will feel the heat as you do so. Aides with orgasms as it heats the private area of both partners. Proceed with sexual intercourse as normal. Men should wear a condom to practice safe sex. Close cap of the product immediately after use. Avoid product 
exposure to direct sunlight or storage for prolonged periods above 100°F. Do not use past expiration date. 
Ingredients: Glycerin
**LUBRICANT HEATS TO TOUCH. IT IS SAFE TO THE INNER AND OUTER SKIN**