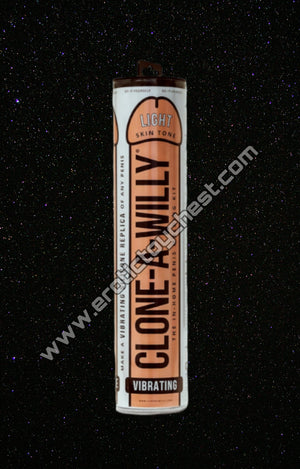 The Clone Ya Willy Kit
Our homemade dildo kit lets you make an exact, vibrating, silicone replica of any penis. The Willy Clone Casting Kit captures incredible lifelike detail, making it the most personalized sex toy on the planet!
Each kit comes with:
Body-safe, homemade dildo clone kit
Light skin tone-colored silicone
Algae-based molding powder
Molding tube (2.5 inches wide, 11 inches tall)
Single-speed vibrator
Easy-to-follow instructions
If you want to make a non-vibrating dildo, you'll need extra silicone (sold separately). The molding process can be tricky. Take your time while molding.  
Cleaning:  Wash your sex toy by hand with a toy cleanser solution (sold separately), or with mild soap & water, using a damp washcloth (when cleaning, never let the toy sit in water or place under a water faucet or hose.). Clean your toy after each use and again before touching another person's genitals. Allow the toy air dry, and then immediately store in a safe and dry area, away from extreme heat or cold, and away from water. 
Color:  Light Skin Tone
Length:  11  Inches
Width:  2.5  Inches
Material:  Silicone
Item is waterproof