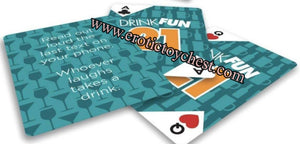 The Adult Drink Card Game
Looking for an exciting way to enliven your next party or game night? Look no further than Drink Fun 21! Add spice to the traditional game of 21 with four extra aces and new strategic opportunities. Whether it's a birthday, office party, or any other occasion, Drink Fun 21 is the perfect game to make the night an unforgettable experience. Prepare to get the party started with Drink Fun 21! Have the drinks and shot glasses ready (not included).
Adult sex games are an excellent means of spicing up one's bedroom or group activities. They offer an exciting new way to explore physical and mental pleasure with others. While not all sex games result in intercourse, they can bring about intense sensations that can heighten arousal and lead to climax.
Two or more players can play this game.