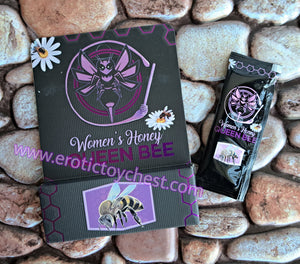 Queen Bee Pussy Honey
Sweeten up your sex life and make that pussy sting into action once you try the Queen Bee Pussy Honey. Created to increase your libido and enhance your sexual desires, once you get this honey packet for yourself you'll be as excited as ever to take things to the bedroom. Give your natural lubrication an incredible boost! You will be hungrier for sex than you've ever been before. Be the lover you have always wanted to be!
Developed to enhance female satisfaction:
Dietary Supplement
Maximum Arousal
Increased Vaginal Lubrication
Heightened Sensation
Increase Libido and Sexual Desire
Give Increase Vaginal Lubrication
More Powerful Orgasms
Greater Frequency and Sensation
Increased Sex Cravings
Fast Action and Long Lasting up to 72 Hours
Directions:  Take one Queen Bee Pussy Honey packet one hour before sexual activity to aid energy, libido and sexual performance (lasts up to 72 hours). Queen Bee Pussy Honey can also be used on a regular basis to maintain a peak condition of preparedness prior to sexual activity. For best results, take Queen Bee Pussy Honey one hour apart from taking any other supplements or medications. Keep out of reach of children. Store in a cool, dry space. Do not use more than one capsule every 60 hours.
Size:  15g/0.5 oz.
Package Includes:  1 Honey Packet
Ingredients:  Proprietary blend including honey, kacip fatimah, caviar powder, tongkat ali root, cinnamon powder